A book, edited by three of the original conference planners, has been published!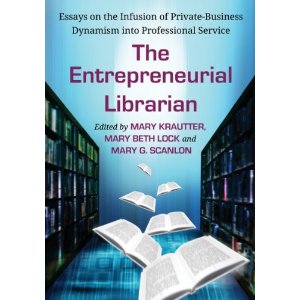 The book, published by McFarland, highlights accomplishments of some of the presenters from the first and secondEntrepreneurial Librarian Conference, and includes other ventures as well. It "chronicles how entrepreneurial librarians are flourishing in the digital age, advocating social change, responding to patron demands, designing new services, and developing exciting fundraising programs. Applying new business models to traditional services, they eagerly embrace entrepreneurship in response to patrons' demands, funding declines, changing resource formats, and other challenges. By documenting the current state of entrepreneurship in libraries, this volume upends the public image of librarians as ill-suited to risky or creative ventures and places them instead on the cutting edge of innovations in the field."
You can pick up your copy through McFarland or Amazon.com.