Take Risks, Embrace Change!
The Conference for Entrepreneurial Librarians
October 17, 2014, on the campus of Wake Forest University, Winston-Salem, NC
Keynote:
Cross-Disciplinary Entrepreneurship: Opportunities for Librarians in the 21st Century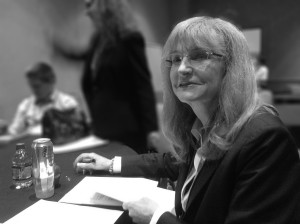 DIANNE H.B. WELSH is the Hayes Distinguished Professor of Entrepreneurship and Founding Director of the Entrepreneurship Program at The University of North Carolina Greensboro. This includes the Entrepreneurship Cross-Disciplinary Program and the North Carolina Entrepreneurship Center (Founder and Director, 2009-2011). She has previously founded two entrepreneurship programs and centers. Dianne is a recognized scholar in family business, international entrepreneurship, and franchising and has seven books and over 150 publications. Her new book, Creative Cross-Disciplinary Entrepreneurship, published by Palgrave-Macmillan, is available December 2014.
This year the conference is collaborated with the Journal of Library Innovation which will publish selected conference papers in a theme issue.
The Conference for Entrepreneurial Librarians is sponsored by the libraries at Wake Forest University and The University of North Carolina at Greensboro. Look for more information about upcoming conferences soon.
Presentations:
Innovation Program Award: Transformative Experiences
Location: ZSR Auditorium
This panel presentation describes and assesses the effectiveness and success of a library Innovation and Program Enrichment Grant" started in 2010. Past grant awardees described their projects and experiences and analyzed their accomplishments.
—Rosann Bazirjian, Dean of the Libraries, University of North Carolina-Greensboro and Panel of Awardees
Creating Communities of Practice: A New Culture of Professional Development
Location: ZSR Mandelbaum Reading Room Presentation
One group of librarians at UNC Charlotte is rethinking professional development through collaboration and the creation of communities of practice.
—Amanda Binder, Social Sciences Librarian, J. Murrey Atkins Library, UNC Charlotte and Lareese Hall, Architecture and Art Librarian, MIT Libraries
Transforming an Academic Library from a Traditional Service Model to Community Partner
Location: ZSR Classroom 476  Presentation
A branch library is transformed from a traditional research library to a resource hub for students, faculty, and extended community, with a focus on unique services and community engagement.
—Julie Leuzinger, Department Head, Eagle Commons Library, University of North Texas Libraries
What Motivates Makers?: The Inspirations of Library Makerspace Creators
Location: ZSR Classroom 204 Presentation
Learn from a study of makerspace creators how to create a library makerspace, and how their experiences can inspire your own risk-taking and innovation.                          —John J. Burke, MSLS, Library Director & Principal Librarian, Miami University Middletown
Lean Entrepreneurship in Your Library
Location: ZSR Auditorium
Launching something new in your library is perilous. By applying lean entrepreneurship principles you reduce time to launch and the money spent on the project.
—Mark Bieraugel, Business Librarian, California Polytechnic State University
A New Collection Development Culture: Focusing on Individual Faculty
Location: ZSR Mandelbaum Reading Room
Tennessee Technological University's library used allocations and departmental liaisons for collection development, but this created barriers and problems. The MyLibrarian program replaced these methods with great success.
—Sharon Holderman, Coordinator of Public Services, Angelo & Jennette Volpe Library, Tennessee Technological University
Pictures at an Exhibition: Fenwick Hallway Gallery
Location: ZSR Classroom 476  Presentation
Fenwick Library research librarians seized opportunities to craft exhibit space in the Library's main entrance/exit corridor. Adventures in management, partnerships and lessons learned were presented.
—Jenna Rinalducci, Art & Art History LIaison Librarian, and Jamie W. Coniglio, Head, Fenwick Library Research Services, George Mason University Libraries
When a Veteran is a Novice: A New Constituency and A New Opportunity
Location: ZSR Classroom 204 Presentation
A librarian taught veterans (the new constituency) business research discusses the planning, execution and the lessons learned from developing this workshop.
—Diane K. Campbell, MLIS, MBA, Associate Professor-Librarian, Moore Library, Rider University
Making a "Makerspace" at UNCG –Armondo Collins and Laath Martin, The University of North Carolina at Greensboro
Using the READ Scale to Re-envision Training for Reference Graduate Student Workers,   –Bridget Farrell, Auburn University
How much will it cost? Modeling Demand Driven Acquisition,  –David Hills, George Washington University
Onyxbelle Magazine: A Model For a New Way to Engage with Patrons, –Nicole Nichols, The University of North Carolina at Greensboro         
University Libraries + Campus Partners + Students = A Financial Literacy Investment ,   –Jordan Nielsen, University of Arkansas
Innovate at Your Library with Business Model Generation, –Bettina Peacemaker, Virginia Commonwealth University
Leading a Successful Change Initiative
Location: ZSR Auditorium Presentation  Checklist
Identify the components of a successful change initiative, including how to find and champion the change agents who will help you lead and influence the change in positive ways.
—Marcy Simons, Organizational Development Librarian, University of Notre Dame
Entrepreneurial Collaboration: Multiple Perspectives and One Replicable Research Path
Location: ZSR Mandelbaum Reading Room Presentation
Curious about a semester-long collaboration with faculty and students applying multi-disciplinary lenses to information literacy and user-centered database design in the corporate world? Join us!
—Tatiana Pashkova-Balkenhol, Undergraduate Research and Instruction Librarian, McNairy Library, Millersville University and Elizabeth Kocevar-Weidinger
Green to Green: How a Sustainable Model for Library Sales Generates More Than Cash
Location: ZSR Classroom 476  Presentation
Creating an entrepreneurial model of resale, reuse, repurpose and recycling, thus fostering public awareness of sustainability, green librarianship and zero waste while raising funds.
—Mindy Reed, Managing Librarian, Bookstore Manager, Recycled Reads, the Austin Public Library's used bookstore
Many Teens, Few Options: Introducing Chromebooks in a Public Library Setting
Location: ZSR Classroom 204 Presentation
Learn how this public library solved a problem by introducing Chromebooks to its teen constituency. From purchasing, administrating, setting up, circulation and how it is working.
—Jill Wagy, Technology Management Administrator, Durham County Library