Sponsored by EBSCO, PrivCo, and Simply Analytics
See below for the videos.
Conference Themes
Community Engagement, Economic Development, & Outreach
Instruction & Programming
Resources & Spaces
Entrepreneurship "Outside the Box"
Keynote Information
Keynote 1: Thursday, November 12th 12:30pm-1:30pm featuring
Gary Schoeniger, Founder & CEO of The Entrepreneurial Learning Initiative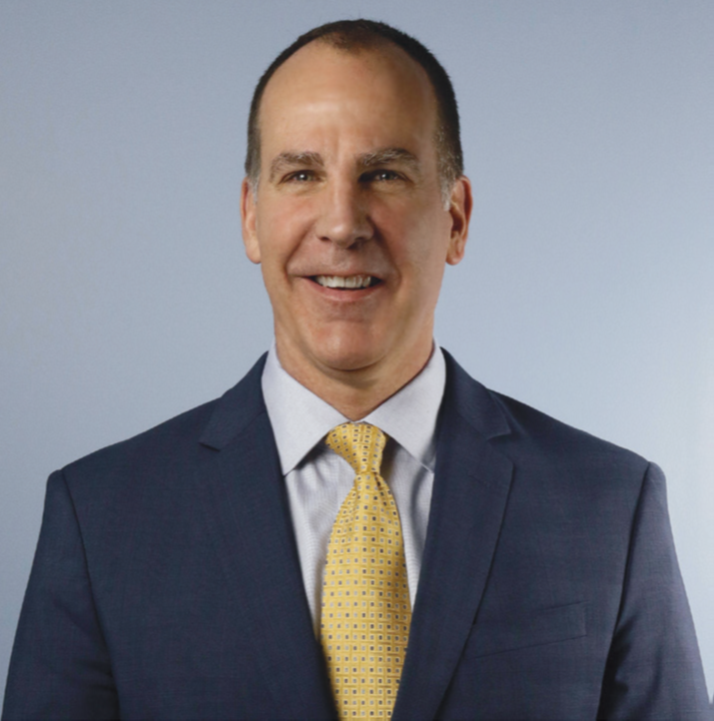 About Gary:
Author and Entrepreneur Gary Schoeniger is an internationally recognized thought leader in the field of entrepreneurial mindset education. His message has influenced a broad audience from academic institutions and economic development organizations to government and non-profit clients worldwide including the Ewing Marion Kauffman Foundation, the Cisco Entrepreneur Institute, the Colombian Ministry of Education, the U.S. State Department, and the European Commission.
As the Founder and CEO of the Entrepreneurial Learning Initiative, Gary led the development of the Ice House Entrepreneurship Program, which has been recognized by the Kauffman Foundation as "redefining entrepreneurship education in classrooms and communities around the world." The Ice House Program has been featured at the United Nations General Assembly, the Papal Council for Peace and Justice at the Vatican, and the European Commission in Brussels. Schoeniger, along with Pulitzer nominee Clifton Taulbert, is also the co-author of Who Owns the Ice House? Eight Life Lessons from an Unlikely Entrepreneur, an international bestseller described as "required reading for humanity."
With his focus on the entrepreneurial mindset, Gary has presented numerous keynotes, workshops, and training programs throughout the U.S. and abroad. Recent engagements include the Global Entrepreneurship Congress in Rio de Janeiro and Moscow as well as speaking and training programs in Cape Town, Athens, London, Bogota, Buenos Aires, Mexico City, Sofia, Santiago, Aberdeen, Nicosia, Zagreb, Tbilisi, and Baku. Gary also serves as a board member for the Hershey Montessori School, a member of the Dean's Council at Purdue Polytechnic Institute, and an advisory council member for Tecnologico de Monterrey's Tec21 model to produce graduates in Mexico with an entrepreneurial spirit and humanistic outlook for the 21st Century.
To learn more about Gary and the Entrepreneurial Learning Initiative, visit https://elimindset.com/
Keynote 2: Friday, November 13th 12:30pm-1:30pm featuring
Ashley Brown, Director of Research Services at the Kenan Institute of Private Enterprise at the University of North Carolina at Chapel Hill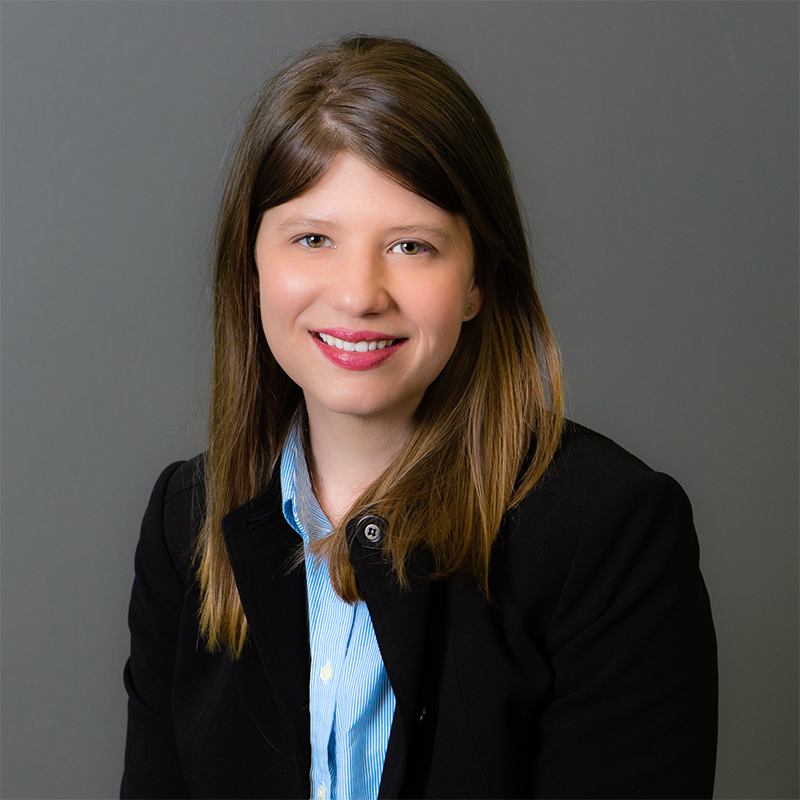 About Ashley:
Ashley leads the research services team at the Frank Hawkins Kenan Institute of Private Enterprise, a nonprofit, nonpartisan think tank affiliated with UNC Kenan-Flagler Business School. The research services team provides a wide array of research and data support to the Institute's faculty-led research centers. Additionally, the team is leading efforts to translate scholarly business research for broader audiences in the focus areas of economic prosperity; capital formation; and technology, innovation and strategy.
Ashley holds master's degrees in library science and public administration from the University of North Carolina at Chapel Hill, and a bachelor's degree in journalism and history from Indiana University.
To learn more about Ashley, visit https://kenaninstitute.unc.edu/people/ashley-brown/
Programming Format
Three 15-minute presentations on one conference theme
Two 25-minute presentations on one conference theme
Pitch Competition- More info here.
Conference at a Glance
Recordings of Plenaries and Concurrent Programming are hyperlinked below in bold.
Tweet about the conference using #entrelibcon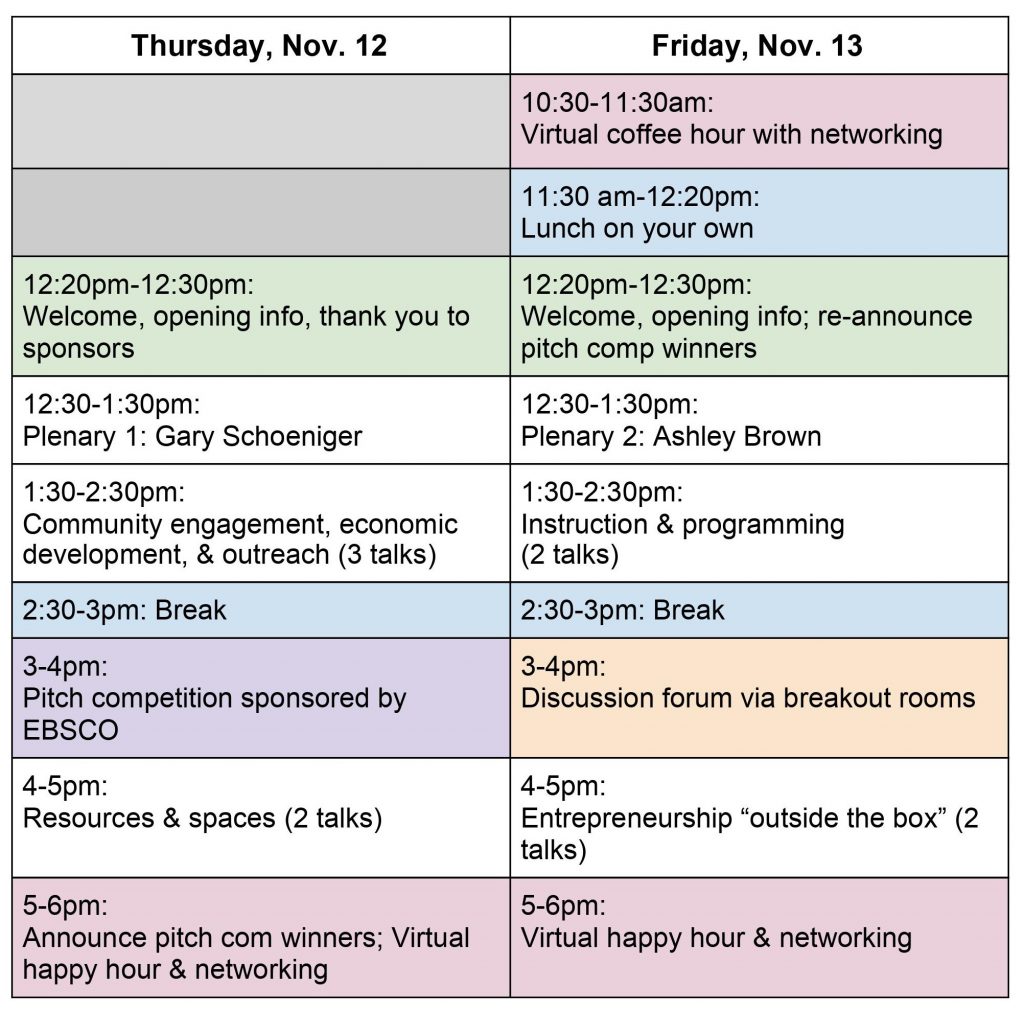 ---
Nov 12, Thursday
12:20pm-12:30pm: Welcome & Housekeeping
12:30-1:30 pm: Plenary 1– Gary Schoeniger, Founder & CEO of The Entrepreneurial Learning Initiative
1:30-2:30 pm: Community Engagement, Economic Development, & Outreach Programming
"Equity in Entrepreneurship: Developing a Service Framework" – Audrey Barbakoff (King County Library System)
"Youth and Entrepreneurship: Teaching the Next Generation Business Skills in the Era of COVID" – LaMonica Wiggins (University of Pittsburgh)
"How Might Libraries Fit Into An Entrepreneurship Ecosystem" – Jennifer Hensel (Launch Greensboro, Chamber of Commerce Entrepreneurship Dept.)
2:30-3 pm: Break
3-4 pm: Pitch Competition Sponsored by EBSCO
4-5 pm: Resources & Spaces Programming
"Government Information for Entrepreneurs: Valuable resources for starting and managing small businesses" – Zoe Mayhook (Purdue University) & Annette Bochenek, Ph.D.(Purdue University)
"Don't go it alone: Crowdsourcing your library's business toolbox" – Mark Pond (Spokane Public Library)
5-6 pm: Virtual Happy Hour, Networking, & Announce Pitch Competition Winners
---
Nov 13, Friday
10:30-11:30 am: Virtual Coffee Hour with Networking & Open Discussion
11:30 am-12:20 pm: Lunch Break
12:20pm-12:30pm: Welcome & Housekeeping
12:30-1:30 pm: Plenary 2–Ashley Brown, Director of Research Services at the Kenan Institute of Private Enterprise at the University of North Carolina at Chapel Hill
1:30-2:30 pm: Instruction & Programming
"Primary Research: Not Secondary for Entrepreneurs" – Sara Heimann (University of California, Irvine) & Summer Krstevska (Wake Forest University)
"Aligning Business Literacy with Startup Thinking: A series of open workshops" – Carey Toane (University of Toronto) & Sarah Shujah (University of Toronto)
2:30-3 pm: Break
3-4 pm: Virtual Discussion Forum with Breakout Rooms
4-5 pm: Entrepreneurship "Outside the Box" Programming
"E.P.A. (Entrepreneur to Public to Academic): Lessons Learned about Entrepreneurship from Three Different Settings" – Tim Tully (San Diego State University)
"Good Things Happen to Those Who (Side) Hustle: Supporting Student Sidepreneurship in the Academic Library" – Allison Cruse (Western Carolina University) & Ophelia Chapman (UNC-Wilmington)
5-6 pm: Virtual Happy Hour & Networking