Take Risks, Embrace Change!
The Conference for Entrepreneurial Librarians
October 17, 2014, on the campus of Wake Forest University, Winston-Salem, NC
Keynote:
Cross-Disciplinary Entrepreneurship: Opportunities for Librarians in the 21st Century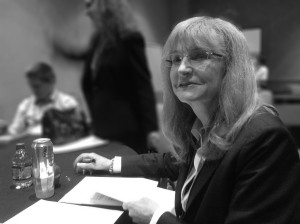 DIANNE H.B. WELSH is the Hayes Distinguished Professor of Entrepreneurship and Founding Director of the Entrepreneurship Program at The University of North Carolina Greensboro. This includes the Entrepreneurship Cross-Disciplinary Program and the North Carolina Entrepreneurship Center (Founder and Director, 2009-2011). She has previously founded two entrepreneurship programs and centers. Dianne is a recognized scholar in family business, international entrepreneurship, and franchising and has seven books and over 150 publications. Her new book, Creative Cross-Disciplinary Entrepreneurship, published by Palgrave-Macmillan, is available December 2014. She is the Chair for the Technology and Innovation Management Division of the Academy of Management with 2,700 members and has served as President of the U.S. Association for Small Business & Entrepreneurship and the Small Business Institute. Dianne is a Fellow in the Family Firm Institute and a Certified Family Business Counselor as well as a Fellow in the U.S. Association of Small Business & Entrepreneurship. She served as a Presidential Appointee to the USAF Academy and the Defense Advisory Committee for Women in the Services (DACOWITS). She is the Fulbright-Hall Distinguished Chair for Entrepreneurship in Central Europe at WU (Vienna University of Economics and Business) in the spring of 2015.
Building on the success of previous conferences, the fourth  Conference for Entrepreneurial Librarians explored how librarians exhibit entrepreneurship by taking risks and implementing change. The conference goal is twofold: to inspire entrepreneurial action among librarians and to create a community among those who do.
This year the conference is collaborated with the Journal of Library Innovation which will publish selected conference papers in a theme issue.
The conference provides a mix of conference-wide sessions, contributed papers and posters.  The conference will provide presentations and posters from librarians and information professionals about projects related to the conference theme. Topics may include but are not limited to:
Innovative approaches that incorporate entrepreneurship

New program or solution that made a difference in your library or community

Initiatives that created a culture of change and risk taking

External forces that influenced the need or impetus for change

New programs with limited or dwindling funding

Measurement of outcomes that led to beneficial change

Assessment of needs and accomplishment
The Conference for Entrepreneurial Librarians is sponsored by the libraries at Wake Forest University and The University of North Carolina at Greensboro. Look for more information about upcoming conferences soon.
For more information contact:
Mary Scanlon [email protected]
Kathy Crowe [email protected]